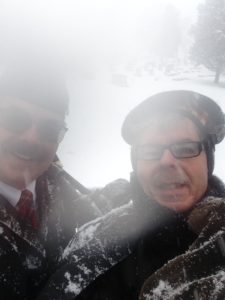 I play a lot of funerals on an annual basis.  It's been a substantial part of how I have made a living for the last 25 years. Of course, people don't wait for good weather to die or get buried. Sometimes it's just plain miserable. Nevertheless, as a bagpiper, my job is to give the best performance possible in all kinds of weather.  The picture to my left is my collogue Charlie and I in a blizzard a few years ago.
What I have learned  in the last 25 years about making money as a piper.
The first thing that I learned is that if you want to make money this way, you have to be good at playing the pipes. You need to have an extensive repertoire to accommodate all your customers. You also need to be comfortable in cold weather. I personally don't wear a kilt if I know I'm going to wear a rain cape or an overcoat because of cold or inclement weather. Most people wouldn't see my kilt anyway and having a sub-freezing updraft doesn't do anything for the performance. I made an investment in a good pair of "Trews" (Tartan Pants) that match the tartan of my kilt.  They make a big difference in my performance and attitude on bad days.
My Equipment
I play a set of Hardie P01's made of polyresin material. I decided a long time ago that I wasn't going to play my "Stradivarius" in bad weather and sub-freezing temperatures. These Hardie's have been a lifesaver of an instrument.  I also found a product some time ago called "Stock Socks".  They are insulated wrappings that go on my drone and chanter stocks, keeping my reeds from freezing up.  I use Selby Drone Reeds on both sets of pipes. I like them because the housing of the reed is a "wood" material that absorbs the moisture. That keeps the reed from filling with water and freezing.
The "Hard Reset"
The night before every performance, I take the bagpipe all apart.  I unzip the bag and I let everything air and dry out over-night.  In the morning I assemble it making sure that all the hemp joints are tight as part of my bagpipe inspection.  I make sure that all of the drone reeds are also in tight so that they don't fall into the bag while I'm playing.  I also make sure that my moisture control system is clean and ready to go.  Starting a cold performance with a dry bagpipe in my opinion makes all of the difference in the world!
The Warm Up
When I get to the performance location, like a cemetery, I play long enough to tune, then I wait. When the procession starts coming, I give them the full performance.  I just got in from one of those funerals.  I was able to play a relatively long prelude and postlude, which was necessary as there were a lot of people present. (I usually play until the last flower is placed on the casket.)
Summary
If you are a bagpiper that wants to play funerals, the funeral directors are the gate keepers in this market.  They get to know who you are and what you can do. They all talk to each other. So, remember you're only as good as your last performance, which can cement your good reputation. Or not.
Here are the products that I use:
>