This is a great tune. A hornpipe. If you're a bagpiper that hasn't ventured into 2/4 competition marches or dance tunes, this is a tutorial on how to read the rhythm and develop the tune. Tunes are the greatest teachers of technique. I hope you enjoy this lesson. Print out the tune by clicking on the link below and watch the video. Make sure that you have a pencil.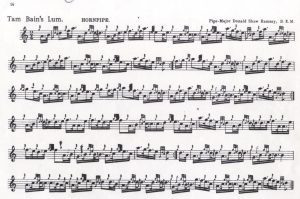 If you'd like to learn more about rhythm go to:
RHYTHM PROGRAM
Below is the practice chanter audio. You should do your due diligence first and write in the rhythm and practice saying the syllables. I would use this audio below last. You don't want to become dependent on hearing the tune first before you play it. The goal is to be able to learn and develop any tune, period.
​I currently have openings for new students. I teach students all over the World on Skype or Google Hangouts. I'll let you try me out in a free lesson!