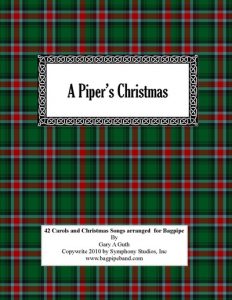 What are your dreams concerning your bagpipe project for this coming year? Do you want to be a better bagpiper? Would you like to be able to play more and different music?
After 21 years spent teaching bagpipers via private lessons, I have found a direct correlation between their actual bagpipe life and their ability to produce new music. I find that the average bagpiper life is about 7 years. A bagpiper comes into our hobby, learns the 10 tunes that his band plays and dies of boredom within that 7 year period.
The only thing that keeps a bagpiper from learning more tunes and a larger variety of tunes is his/her ability to read and process rhythm.
About 10 years ago, I introduced a product called "A Piper's Christmas". This book includes 42 Christmas hymns, songs and carols arranged to play on our Great Highland Bagpipe. I introduced this book to my students in October. I told them that they needed to define the rhythm for each selection by writing it in with pencil, practice singing each (since they already knew many or most of the songs) and then learn to play each one. When January came around and we went back to the traditional music, I found that their ability to sight read music had vastly improved, simply by carrying out those three steps with the Christmas music.
I'd like to invite you to first take my Rhythm Program (it's free) and consider buying my book. It is the beginning of November. If you were to learn one Christmas song per day (it doesn't have to be memorized), you may be able to play the whole book by the time Christmas Day arrives.
If you have a band that struggles to learn new music, I'll offer the book at a discounted rate if you buy 10 or more copies. There is practice chanter audio available for each tune.
​To start the Rhythm Program go to: https://bagpipelessons.net/bagpipe-rhythm-lessons.html After taking the lessons, you can click on the link to the books and see the full description.
I hope you take advantage of my free lessons and offer. It could change your bagpipe career forever! If you'd like to use my books, they are available in hard copy or digital download.